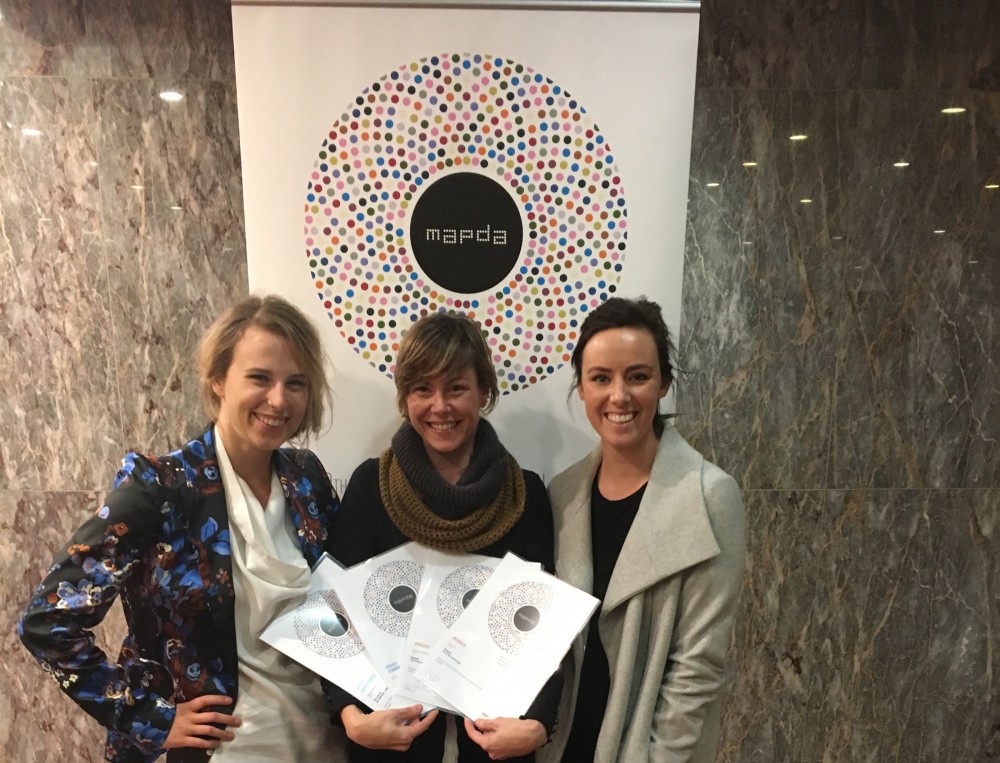 A Hunter collaborative has showcased the region's thriving and diverse arts sector by taking out honours in the prestigious Museums Australia Publication Design Awards in Auckland, New Zealand.
Local creative agency, Headjam won and was highly commended for four categories at the 2016 Museums Australia Publication Design Awards (MADPAs) for its creative design work on Octapod's 2015 This Is Not Art (TiNA) Festival and The Lock Up 'Brett MacMahon – Hidden Nature' exhibition catalogue.
Headjam's Managing Director, Luke Kellett, said that it was not surprising that regional projects and organisations were wining Australian and New Zealand awards.
"The Hunter's arts and cultural community has a genuine connectivity and understanding of the broader landscape and works collaboratively to provide activities and events that engage people," Luke said.
"Hunter-based organisations were shortlisted in almost half of all the categories and is a testament to the significant contribution of Hunter organisations to the Australian arts and cultural sector."
Octapod, The Lock-Up, Lake Macquarie City Art Gallery and Maitland Regional Art Gallery were finalists representing 11 of the 71 shortlisted project entries, or more than 15 per cent of all shortlists.
"Octapod's TiNA Festival operates on a limited budget and this was one of the main elements which influenced the creative design of the 2015 TiNA branding and creative collateral. It was a privilege to work with Octapod on the creative direction of TiNA in its 18th year. It's easy when you are working with such a passionate team of people that share your enthusiasm for supporting a diverse arts sector that provides a national platform for experimental and emerging artists right here in Newcastle," Luke concluded.
Headjam won against a number of high-calibre of cultural institutions including the National Museum of Australia, the Australian War Memorial and the National Portrait Gallery, cementing the region as a thriving arts and cultural destination.
Headjam won awards in the following categories:
WON – EXHIBITION BRANDING PACKAGE – Octapod This is Not Art 2015
HIGHLY COMMENDED – EXHIBITION CATALOGUE (SMALL) – The Lock-Up Brett MacMahon – Hidden Nature
HIGHLY COMMENDED – MULTIMEDIA – Octapod  This is Not Art 2015 Promotional Video
WON – MULTIMEDIA – Octapod This is Not Art 2015 App
The Museums Australia Publication Design Awards (MAPDA) were established to celebrate excellence and quality in design of publications and multimedia produced for the museums sector across Australia and New Zealand. The MAPDAs are open to all non-commercial museums, galleries, zoos, botanical gardens, historical societies, libraries, keeping places, science centres and other cultural organisations.
Image | Sarah Cook, Jaime Pritchard, Sara Spence accepting the awards
Company Snapshot | Headjam
Headjam is a Newcastle-based creative agency specialising in 2D and 3D digital and film mediums in the health, education, community and arts sectors. It provides a range of services including graphic design, branding and strategy; digital marketing; project management; print, web and digital; broadcast and motion graphics and photography.
Comments