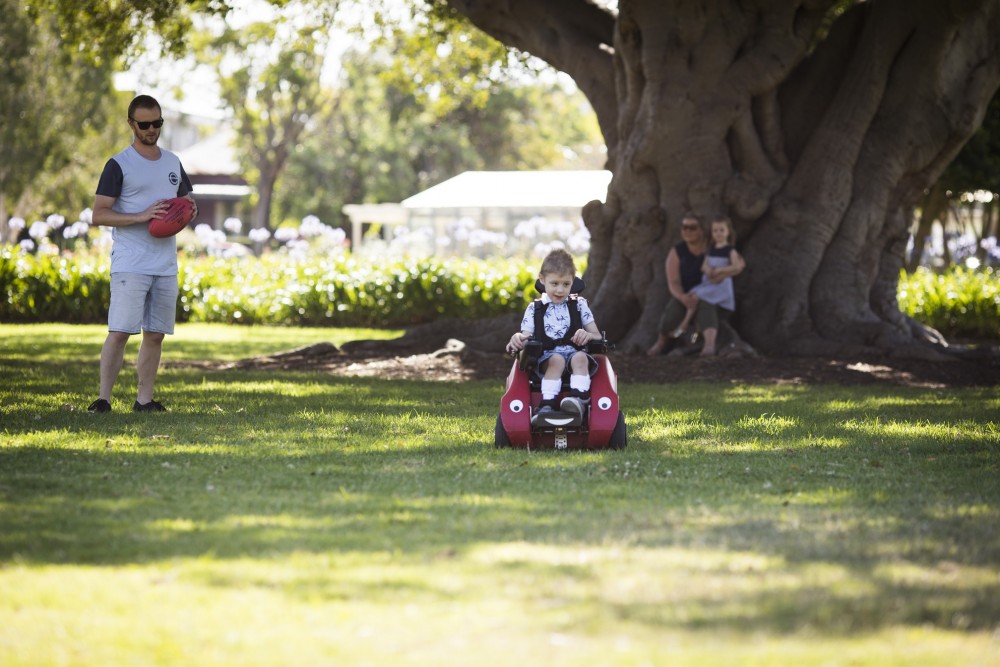 The story of the Medowie-based Goodwin family whose son Carter has cerebral palsy will help raise awareness of the life-changing impact that projects enabled by Newcastle Permanent Charitable Foundation have at a grassroots level in a new campaign that launched on Monday 25 March.
The campaign, featuring Carter and his dad, Alex, celebrates the capacity for projects funded by the Charitable Foundation to help rewrite the future for people facing disadvantage, marginalisation, or isolation.
Alex said his family's participation in the campaign enabled them to help other families realise there are people and organisations within their community who are dedicated to helping them overcome adversity, and realise a better future for them and their loved ones.
"We've had one hell of a journey: from the elation of Carter and his twin sister Milla's early but uncomplicated arrival into the world; to the moment where the doctors told us that Carter has contracted a virus leading to him being diagnosed with cerebral palsy and my wife asked the doctors through tears whether Carter would ever walk; to now being able to enjoy all the things he can do, and the goals he can achieve. We've had to learn to think outside the box and we've really leant on our support network," Alex said.
"As Carter's family, our main capability is in just loving and supporting him unconditionally – which we'll always do – but it takes organisations, funding and technology to come up with solutions to help kids like him to achieve all they can. For him to be a kid first, and be free to put his disability second."
With the help of Cerebral Palsy Alliance and the Newcastle Permanent Charitable Foundation, Carter's family has access to the Wizzybug, a first wheelchair. The Wizzybug enables Carter to explore and develop his spatial awareness and fine motor skills. It has also enabled Carter to join in with his siblings when they're out riding their bikes.
Lucy Jacka, Head of Fundraising for Cerebral Palsy Alliance said that the generosity of a visionary corporate like Newcastle Permanent Charitable Foundation meant so much to Cerebral Palsy Alliance.
"The Charitable Foundation's partnership and financial contribution allows us to deliver support to families, like the Goodwins, that will make a significant difference to their lives," Lucy said.
Charitable Foundation Acting Chair, Jennifer Leslie said the Goodwins' dedication to sharing their story was overwhelming.
"The Charitable Foundation supports projects which have a genuine capacity to make the future better for people facing disadvantage, isolation or marginalisation. We're so grateful that Alex and Sam have given their time and have been vulnerable in sharing their emotional and inspiring story of how their lives have changed," Jennifer said.
"Each case study in this campaign shows how profound the impact can be on the life of people and families who've benefitted from just one of the Charitable Foundation's projects. I'm amazed to think about how many futures have been rewritten by Charitable Foundation projects during its 15 years, through more than $19 million in funding to enable nearly 450 projects."
The new campaign tells the story of four lives which have been changed by community projects and initiatives funded by Charitable Foundation grants.
"The organisations and groups delivering the projects funded by the Charitable Foundation work tirelessly to understand how they can best improve the lives of the people they serve, and are the true heroes in our community. Every day Cerebral Palsy Alliance provides programs and support to families and people living with cerebral palsy that help families, like the Goodwins, overcome the day-to-day challenges and achieve anything they set their minds to. I congratulate Cerebral Palsy Alliance on helping Carter's family to create a very bright future for their amazing little boy," Jennifer said.
The campaign launch coincided with the opening of the Charitable Foundation's next funding round to allocate almost $800,000 in grants. Applications for funding are open until Monday 6 May.
Newcastle Permanent Charitable Foundation distributes more than $1.5 million in grants each year to enable projects that address disadvantage in local communities throughout the Hunter, Central West, Central Coast, New England, Mid North Coast and Northern Rivers regions of NSW.
IMAGE | The Goodwin family with Carter in the Wizzybug.
Company Snapshot | Carter's story brings real life to new campaign
Comments